The PS5 vs Xbox Series X war is still ongoing, with no clear winner as of yet and pre-orders are soon to go live in the UK.
While gamers are weighing up their options with regard to buying the next-generation of consoles, we've rounded up all the crucial information you need to make your decision.
Sony has finally revealed all about the price and release date for their next console.
Here's our UK PS5 Pre-Order guide.
READ MORE: PS5 Official Accessories Buying Guide UK: Release Date, Pre-Order Info and Price For The Official Controller, Headset, Media Remote, Charging Station and Camera
Be sure to watch our wide variety of PS5 news here!
Where Can I Pre-Order The PS5 In The UK?
PlayStation has confirmed that pre-orders will be available starting today (17th September) at select retailers.
A few retailers started taking pre-orders last night after the PS5 showcase concluded, and stock flew off the (virtual) shelf. More retailers opened pre-orders this morning, but they also sold out within hours. Argos, and a few other smaller retailers such as SimplyGames, aren't opening up their pre-orders until tomorrow (18th September) so you still have a shot if you want to get a PS5 for release day, but you'll need to be quick.
We're hearing whispers that retailers such as Amazon might have a second wave of pre-orders, so check back here if you're still looking to secure your console as we'll keep this page updated with any stock we can find.
Here's a list of places that you can pre-order from right now:
Argos (Pre-orders go live Friday, 18 September)
Read More: PS5 vs Xbox Series X Comparison And CONSOLE WAR COUNTDOWN LIVE - Price, Specs, Games, Controller, Release Date And More
What Will Be Included With The PS5 In The UK?
It's likely the following items will be included in the PS5:
PlayStation 5 Console
PlayStation 5 Controller
PlayStation 5 Headset/Earbud with Mic
PlayStation 5 Power Cable
2.1 HDMI Cable
When Can I Pre-Order The PS5?
September 16 update: Pre-orders for the PlayStation 5 were open on Walmart.com in the U.S. for a brief window on September 16, along with places like Target, but have quickly sold out of most units.
In an email from a PR firm on behalf of Walmart, I was told Wednesday night that the retailer would receive more PS5s for pre-order on September 22.
"If you didn't get your hands on the PlayStation 5 pre-order on Walmart.com tonight, no worries," the email said.
"The new console will be available for pre-order in Walmart stores on 9/22 for $499 (digital edition for $399). It will be released on November 12."
IGN has reported that after the PS5 Dual Sense controller first look by Geoff Keighley, they were able to talk to Worldwide Head of Marketing Eric Lempel.
Lempel noted the following regarding pre-orders for the PS5:
"I think it's safe to say...we'll let you know when preorder will happen. It's not going to happen with a minute's notice. We're going to at some point let you know when you can preorder PlayStation 5. So, please, don't feel like you have to go run out and line up anywhere until you receive official notice on how that will work."
So as of now, we do not know when we will be able to pre-order yet; but it appears we will have plenty of notice!
PS5 Release Date UK
It has been confirmed that the PS5 will launch on the 12th November in select countries. These include US, Japan, Canada, Mexico, Australia, New Zealand, South Korea.
The rest of the world will receive the console on the 19th November.
PS5 Price UK
The PS5 is priced at £449.99 for the full console and the digital edition is priced at £359.99.
If you're wanting to upgrade to the new PlayStation console, we recommend trading in your PS4 as soon as you can as it will rapidly decrease in value as soon as the pre-orders go live.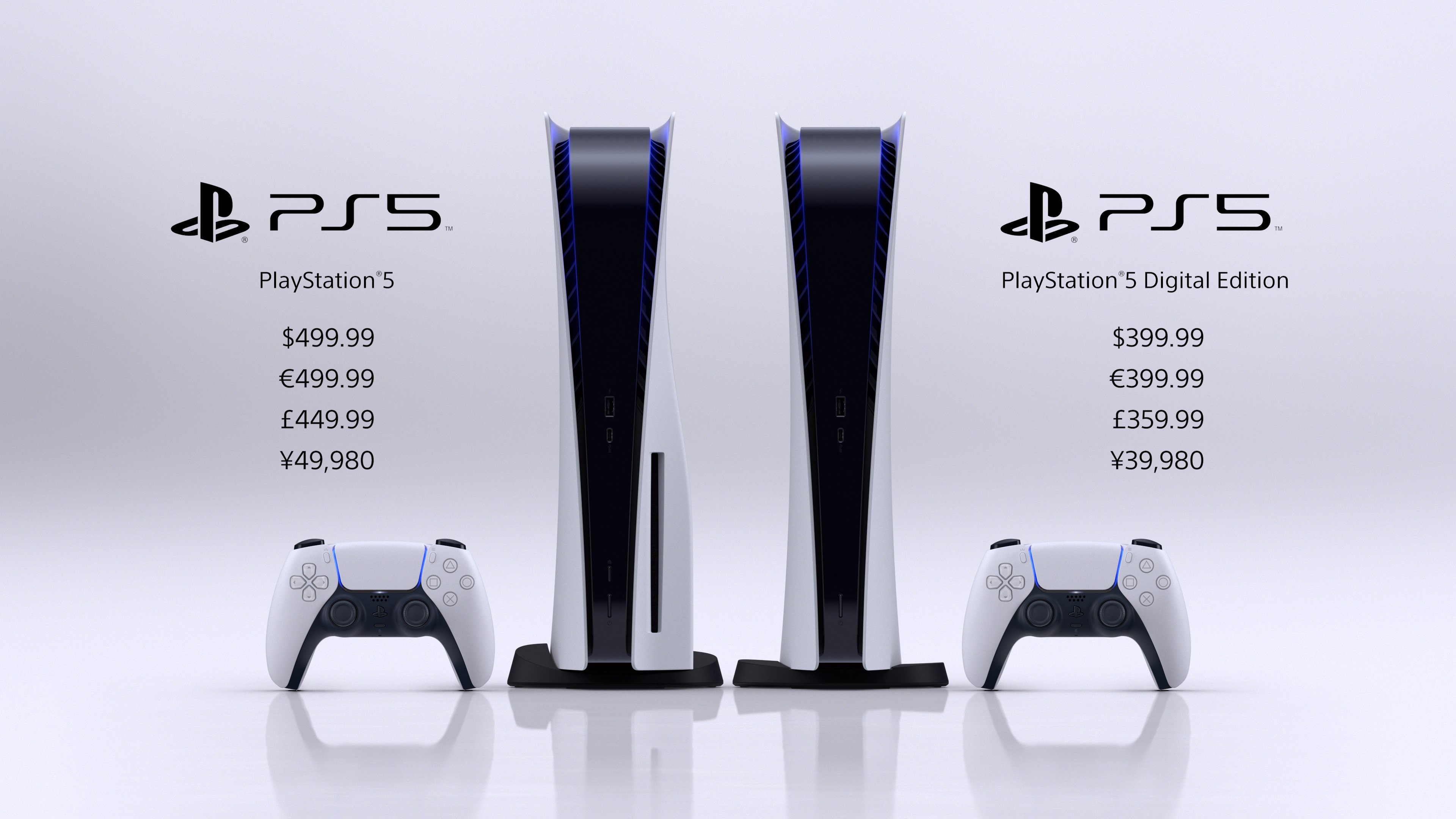 PS4 Trade-In Prices UK
If you trade in your PS4, currently you will get:
PS4 500GB Black Unboxed: £100-£110 cash | £130-£140 voucher
PS4 500GB Black Boxed: £110-£120 cash | £130-£140 voucher
PS4 500GB White Unboxed: £110-£120 cash | £130-£140 voucher
PS4 Slim Black 500GB Boxed: £120-£130 cash | £140-£150 voucher
PS4 Slim White 500GB Unboxed: £120-£130 cash | £150-£160 voucher
PS4 Pro Console 1TB Black Unboxed: £150-£160 cash | £180-£190 voucher
PS4 Pro Console 1TB Black Boxed: £160-£170 cash | £190-£200 voucher
PS4 Pro Console 1TB White Unboxed: £160-£170 cash | £190-£200 voucher
PS4 Pro Console 1TB White Boxed: £160-£170 cash | £200-£210 voucher
Other variations will likely fetch for a similar price.
These prices are not absolute and can change often - this was last updated 16th November 2020.
If you're looking to trade in games, you may want to think twice as the PS5 will be backwards compatible with PS4 games. However, if you're trying to raise funds for the new console, don't hold onto them for too long as they will also decrease in value rapidly.
Not to mention the hassle it will cause if you attend a midnight release.
PS5 Expected Games Cost UK
Most game new release titles cost £40-50, we can assume this wont be any different for the next generation titles at launch, but this could change over time.
Some of the debut games have varying prices:
Demon's Souls ($69.99/¥7,900/€79.99)
Destruction All Stars ($69.99/¥7,900/€79.99)
Marvel's Spider-Man: Miles Morales ($49.99/¥5,900/€59.99)
Marvel's Spider-Man: Miles Morales Ultimate Edition ($69.99/¥7,900/€79.99)
Sackboy A Big Adventure ($59.99/¥6,900/€69.99)
Here are the confirmed launch titles coming to the PS5:
Outriders (Exclusive)
Godfall (Exclusive)
Spider-Man: Miles Morales (Exclusive)
Sackboy A Big Adventure (Exclusive)
Demon's Souls (Exclusive)
Cyberpunk 2077
FIFA 21
Call of Duty: Black Ops Cold War
Watch_Dogs: Legion
Assassin's Creed: Valhalla
Devil May Cry 5 Special Edition
Read More: PS5 Games 2020: Every Confirmed and Rumoured Game We Expect To See From The PlayStation 5
PS5 Controller Price UK
The PlayStation 5 will ship with a brand new controller called the DualSense. This impressive piece of kit will include adaptive triggers, haptic feedback and a built-in microphone.
Of course, if you're buying the PS5 console itself you get one in the box, but if you're after a spare for split-screen co-op or so you can alternate when one is out of battery then you can pick up an individual DualSense for £59.99.
CLICK HERE TO BUY: DualSense Wireless Controller at Amazon - £59.99
PS5 Headset Price UK
While the DualSense controller will feature an inbuilt microphone, we expect that most people will still want to use a headset for the best audio and chat experience.
Sony has made a very big deal about the PlayStation 5's ability to utilises 3D Audio, which makes the official PULSE 3D Wireless Headset the perfect companion for immersive play sessions as it's designed around getting the most out of the audio technology.
There are also two noise-cancelling microphones within the earcups, so your squadmates should be able to hear every order you give them. The headset has gone up for pre-order alongside the PS5, and will cost you £89.99.
CLICK HERE TO BUY: PULSE 3D Wireless Headset at Shopto - £89.85