Black Ops Cold War's gameplay is out in the wild and Treyarch's next game looks incredible. So much so, Activision are inviting PS4 players to try the Alpha for themselves this weekend!
After the multiplayer reveal, we're infinitely more knowledgable on this year's game and what we can expect.
COD 2020 will see Treyarch and Raven Software collaborate to create this year's FPS juggernaut, with Beenox helping to develop the PC side of things.
The Black Ops 1 sequel brings in familiar faces to support the campaign mode such as Alex Mason, Frank Woods and Jason Hudson
On the multiplayer front, the game looks to take all the great things that Modern Warfare brought in this past year and continue to evolve it with a Black Ops flair.
Season 6 of Warzone will be a huge milestone for Call of Duty history as it begins the transition of the universal narrative that is now set to span across the franchise and connect games together.
It's rumoured this is being done by a live nuke event, changing Verdansk for good.
Here's EVERYTHING we know about Call of Duty: Black Ops Cold War.
Check out more about Black Ops Cold War by clicking the links below:
Be sure to bookmark this page and check back regularly for the latest information.
Latest News
Alpha Goes Live TODAY - 18th September
Pre-loading for the public Alpha in Black Ops Cold War went live on the 17th September at 4pm BST.
The Alpha will go live for everyone at 6pm BST on the 18th September
Be sure to check out how to download it here.
Bullet Penetration Changes - 15th September
Bullet penetration is being changed for Black Ops Cold War, now focusing per class rather than per weapon.
This will help alleviate any inconsistencies that pop up when making the game.
Read all about it here.
Alcatraz Returning As The Gulag - 14th September
Is Alcatraz returning as the Gulag for Black Ops Cold War's version of Warzone?
It could be something to do with the upcoming season of Warzone, but new files referencing the former Blackout map have appeared in Modern Warfare.
Many theories are speculating it will take over the place the Gulag currently holds.
Read all about it here.
Slide Cancel Changes - 13th September
Slide cancel is being changed from the Alpha to improve the fluidity of the game and stop its impending abuse come launch.
This mechanic allows players to finish their slide animation much faster and not suffer the drawbacks of moving slowly, ultimately increasing the time it takes for them to get from A to B.
Read about how it's being changed here.
Damage Flinch Redesigned - 12th September
Tony Flame has spoken on the way damage flinching will be functioning in Cold War.
Noting that it has now been made as a feedback mechanism to signal you are taking damage.
AK74u OP? - 11th September
Is the AK74u Overpowered? After the multiplayer reveal, many influencers that had the chance to play the Alpha were praising this particular weapon.
Read all about it here.
Tranzit Returning In Zombies - 10th September
Tranzit is returning to Zombies if yesterday's teaser is anything to go by!
The Black Ops 2 map has been rumoured to be getting a remake and was even intended to release in Black Ops 4.
Now it seems it's getting a 1980s twist in the latest Call of Duty game - read all about it here.
No More Drop Shots? - 10th September
One eagle-eyed Twitter user has spotted that drop shots may be a thing of the past in Black Ops: Cold War.
Find out all about why you might need to change your tactics here.
Multiplayer Reveal Livestream - 9th September
The multiplayer reveal is now live:
When Is The Black Ops Cold War Reveal?
The Black Ops Cold War reveal took place in Warzone's Verdansk on the 26th August 2020 with the multiplayer reveal arriving on the 9th September 2020.
An Easter Egg hunt took place from the 10th-19th August that took place back onto Black Ops 4 and all-around Warzone.
Select influencers within the COD community were sent mystery crates with clues to solve a big easter egg relating to the COD 2020 reveal.
First players found themselves using the clues in physical form, to co-ordinate with a new update to Black Ops 4's Summit map.
Eventually, players found a new website, called Pawn takes Pawn - by overlapping projection slides with codes to the corresponding clock, the phrase "BISH YOU WERE HERE" was revealed. This phrase is a reference to the World Chess Championship of 1972 between Bobby Fischer of the United States and Boris Spassky of the Soviet Union.
Over the next week, players would log on at 5pm BST to watch a new video that was related to a specific year with clips from that time period.
During the videos, numbers would momentarily flash on the screen as well as provide Warzone co-ordinate with a key code to open a new shed or bunker that contained cyphers and more clues.
By solving the clues it led players to pawntakespawn.com/playthegamefindthetruth with the final teaser video detailing the reveal date.
The multiplayer reveal was less cryptic, with Activision announcing publicly it's airdate.
Read More: Black Ops: Cold War Reveal COUNTDOWN LIVE: Date, Time And How To Watch
Who Is Developing Black Ops 2020?
Call of Duty usually follows a three-year development cycle between Infinity Ward, Sledgehammer Games and Treyarch Studios.
Despite it being Sledgehammer's turn to get down and dirty, Treyarch will be taking the reigns on the COD 2020 project with Raven Software assisting.
The PC port of Black Ops Cold War will be developed by Beenox, who helped develop the PC side for Modern Warfare.
The title includes additional development support from High Moon Studios, Activision Shanghai and Sledgehammer Games.
This is alleged to be due to massive overhaul and shift in the development team from Sledgehammer to Treyarch.
This leak revealed that Treyarch 2021 game is being brought forward due to the trouble that Sledgehammer faced and they will only be providing a support role on this year's Call of Duty.
Release Date & Platforms
Black Ops Cold War will release on the 13th November across all platforms.
According to XclusiveAce, they were originally targeting a release for the end of Q3. However, that date has been tentatively pushed back until early Q4 (October/November).
Xbox Series X has got a confirmed release date of the 10th November, meaning Black Ops Cold War will be a launch title.
The PS5 is still yet to get a release date.
Nintendo systems haven't seen a Call of Duty game since Call of Duty: Ghosts on the Wii U and it appears to still elude the scope of Activision.
The Call of Duty website has confirmed that the next-gen edition will support many of the new features coming to PS5 and Xbox Series X including a higher framerate, hardware-based ray-tracing and faster loading times thanks to the new SSDs.
Read More: PS5 vs Xbox Series X Comparison And CONSOLE WAR COUNTDOWN LIVE - Price, Specs, Games, Controller, Release Date And More
Price
Black Ops Cold War ranges from £59.99-£89.99 in the UK, depending on where you buy it from and which edition you get.
Standard Edition - £59.99
Cross-Gen Edition - £64.99
Ultimate Edition - £89.99
Black Ops: Cold War Trailers
Black Ops Cold War Campaign Reveal Trailer
Black Ops Cold War Multiplayer Reveal Trailer
Black Ops Cold War GeForce RTX Trailer
Treyarch and Raven Software have announced that Call of Duty: Black Ops Cold War will support ray tracing, NVIDIA DLSS, and NVIDIA Reflex.
"With the GeForce RTX 30 Series, we've been able to expand our ability to realistically immerse players into our game world with the integration of ray tracing features," said Mark Gordon, co-studio head at Treyarch. "We're also excited about the introduction of NVIDIA DLSS, which will level up performance. We look forward to continuing our commitment to Call of Duty PC players everywhere."
Black Ops Cold War Reveal Teaser
Price
Standard Edition - £59.99
Cross-Gen Bundle - £64.99
Ultimate Edition - £89.99
Box Art
What Is Black Ops Cold War About?
A few leaks revealed the name before being confirmed as Black Ops Cold War - the game was codenamed 'Project Zeus'.
The likely names were:
Call of Duty: Black Ops Cold War
Call of Duty: Black Ops
Call of Duty: Black Operations
Call of Duty: Black Ops 5/V
Call of Duty: V
Call of Duty: Vietnam
It's hardly a surprise that Treyarch will opt to stay in the Black Ops franchise as it is a recognised and successful branch of the Call of Duty title.
The next Call of Duty game is a direct sequel to Black Ops 1 and not a reboot!
The new game will feature many returning characters from the Black Ops franchise including Woods, Mason and Hudson!
"Nothing is ever as it seems in a gripping single-player Campaign, where players will come face-to-face with historical figures and hard truths, as they battle around the globe through iconic locales like East Berlin, Vietnam, Turkey, Soviet KGB headquarters and more. As elite operatives, you will follow the trail of a shadowy figure named Perseus who is on a mission to destabilize the global balance of power and change the course of history. Descend into the dark centre of this global conspiracy alongside iconic characters Woods, Mason and Hudson and a new cast of operatives attempting to stop a plot decades in the making. Beyond the Campaign, players will bring a Cold War arsenal fo weapons and equipment into the next generation of Multiplayer and Zombies experiences."
LongSensation claims that the game is based during the Cold War, spanning 40+ years and will include the Vietnam and Korean War; which has now been confirmed.
Sledgehammer Games were originally creating 'Call of Duty: Vietnam', according to a Reddit user, until Treyarch took over.
It begs the question as to whether this remains within the same universe and timeline as the original Black Ops series.
Will Black Ops Cold War be proceeded by Black Ops 2? There were plenty of rumours flying around that this was set in an alternate timeline.
Those still seem to be in effect, as a picture of Imran Zakhaev from 1982 has popped up thanks to @TheGamingRevo3 - it suggests the game is set in an alternate timeline where it is connected to Modern Warfare.
What's exciting is that it opens up the possibility for many more prequels and sequels to existing Black Ops projects.
Black Ops 1 is set in the 1960s, Black Ops 2 is set in 2025 - it means that there's plenty of room to play with, in between these games.
A major talking point about this year's Call of Duty campaign is that it was gritty and gruesome, Black Ops 2020 is rumoured to take it a step further compared to Modern Warfare.
Read More: Black Ops Cold War: Campaign Story LEAKED! New Game Is A Black Ops 1 Sequel!
Engine
The new engine is NOT the same one as the one used in Modern Warfare.
Treyarch's Dan Bunting says that they are not fully using Modern Warfare's engine.
The teams share 'underlying technology,' but the engine and technology being used in Black Ops Cold War was created back in 2015.
The toolset built was created with the intention to work on future platforms such as the PS5 and Xbox Series X.
Black Ops Cold War will feature the latest display and next-gen technology, supporting 4K and HDR across the board.
Read More: Black Ops Cold War Engine: Will It Use The Modern Warfare Engine?
Multiplayer
Here's what we know about the multiplayer:
There is also a compass
Swimming mechanic returns with water in multiplayer maps alongside water in the new Warzone map
Unlimited sprint is back
Interactable doors are not in regular multiplayer but will stay in Warzone
Specialists do not return, but a Field Upgrade-like feature has been added
You can choose one piece of equipment
Dead Silence returns
150 Health with auto-heal
Gunsmith returns
6v6 is the standard player count but modes can go up to 40 players
EKIA is back
Flinch is no longer a hindrance
Two factions: CIA vs Spetsnaz
Boots on the ground movement similar to Black Ops 4 and has a sliding mechanic (as well as a slide cancel feature)
Time-to-kill is faster than Black Ops 4
WOODS RETURNS: Looks don't count for s*** in the jungle. This is 'Nam baby!
Operators/characters have been redesigned to be more fluid.
"We've been able to enhance the physics and gravity into what you carry, from the weight of your gear like pouches and grenades. To the way a wallet chain or rope sways as your sprint"
Everything in Black Ops Cold War appears to be more natural than the previous Call of Duty titles.
Sprint Take Off - This gives your player a running start, you will start fast then slow down; just like in real life
Slide Crouch - In Black Ops Cold War you will start and end a slide in a fluid motion
Footstep Control - You will make more noise the faster you run, crouching can also make you silent
Jumping - They noted that the jumping is much more natural, and will slow you down once you land
No Nuke has been confirmed as of yet.
Prestige Mode
Prestige Mode is an option in multiplayer allowing players to reset their rank, unlocks and challenges in exchange for certain game-specific goodies.
Players would start once again from level 1 and most games shipped with up to 10 levels.
While we don't want to get your hopes up, we don't want to end this article on a sour note.
After the livestream, Treyarch has specifically mentioned in a post-reveal tweet "More progression system details to come".
It seems like a strange thing to mention specifically after all that was revealed and it could be that they've taken note of the various polls and tweets pleading for this feature to return.
Theories are escalating that a new progression system is coming instead of the seasonal ranks and prestige mode we've seen before.
Read More: Black Ops Cold War: Is Prestige Mode Returning? Progression System Details To Come Says Treyarch
DLC And Season Pass
The new game will feature a Season Pass system that delivers a steady stream of post-launch content, including maps and modes, Zombies experiences, along with a robust schedule of in-game community events.
Read More: Black Ops Cold War Season 1 LEAKS: Release Date, Maps, Weapons, Warzone News, Battle Pass Rewards, Operators And Everything We Know
Scorestreaks & Killstreaks
Noted on the reveal live stream, there is a massive change coming to the way scorestreaks work in Black Ops Cold War.
In previous titles when you die, your scorestreak meter resets. Spawning back in you will begin at zero, and this has become the norm for every Call of Duty.
Treyarch has decided to implement what they are calling 'Chain Score'
Players who get multiple kills during a single life will have a multiplier to their scorestreak when they spawn in, making it easier to get a scorestreak.
"A dynamic and rewarding Scorestreak System means score is no longer lost on death, and you'll earn score multipliers for stringing together multiple kills in the same life. You'll also earn score for helping your team to play the objective, and each Scorestreak goes on a cool down after it's used to prevent spamming."
Treyarch has added a cooldown feature to each scorestreak so you do not have access to them all the time.
Here are the confirmed killstreaks in Black Ops Cold War:
RC-XD (600)
Spy Plane (800)
Artillery (1900)
Napalm Strike (2400)
Air Patrol (2750)
War Machine (3150)
Attack Helicopter (3750)
Chopper Gunner (6000)
It's likely more killstreaks will be added, here are some rumoured killstreaks:
Counter-UAV
VTOL
Cruise Missile
@_TomHenderson_ has claimed that Specialists weapons are returning as killstreaks. This would include:
Flamethrower
Hand Cannon
Bow
Grenade Launcher
Death Machine
Read More: Call of Duty Black Ops Cold War 2020: All Killstreaks Confirmed And Rumoured In COD 2020
Weapons
Here are all leaked weapons so far:
Assault Rifle

Daewoo K2 Assault Rifle
AK5
Krig-6 (confirmed)
Commando XM4 (confirmed)
Type 15
AK47 (confirmed)

Tactical Rifles

M16A2 (confirmed)
Type 63 (confirmed)

SMG

MP5 (confirmed)
SOCIMI821 (UZI)
Skorpion
AK74u (confirmed)
Grease Gun
Type 821 (confirmed)

LMG

RPD (confirmed)
Stoner 63 (confirmed)

Shotguns


Hauer 77 (confirmed)
Gallo SA12 (confirmed)

Snipers/Rifles

SKS
Pelington 703 (confirmed)
LW3-Tundra (confirmed)

Pistols


1911 (confirmed)
Diamatti

Other/Launchers
It's been confirmed that bullet penetration for weapons will remain the same for guns of a certain category.
Read More: Call Of Duty: Black Ops Cold War: All Weapons Confirmed And Rumoured In COD 2020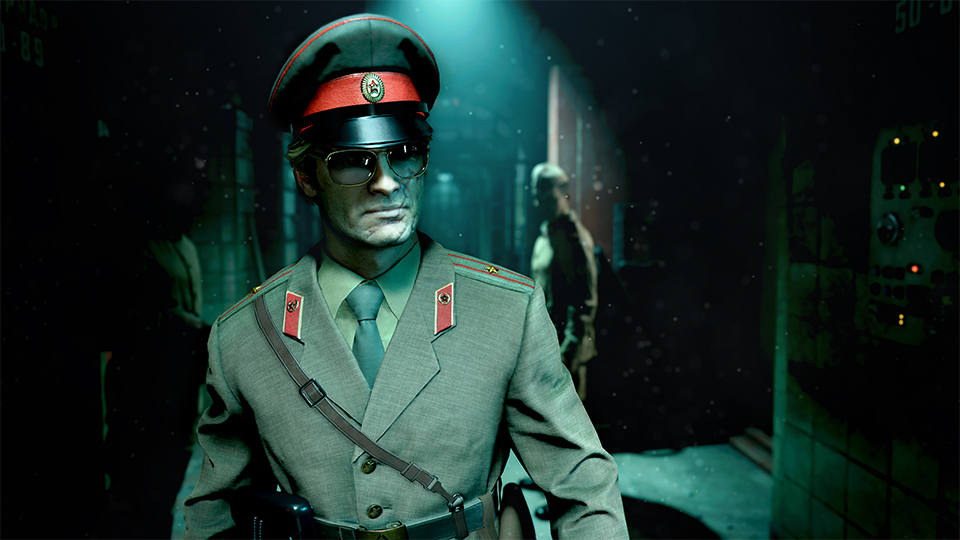 LICENSE TO KILL: Wield weapons used straight from the Cold War
Maps
Here are the confirmed maps coming to Black Ops Cold War:
Maps are going back to the classic 3-lane setup and are aiming to be "less cluttered".
Armada features three ships in the North Atlantic Seas and are connected by zip-lines.
Crossroads is set in Uzbekistan.
Miami is set in a colourful South Beach resort.
Satellite is set in the desert of Angola.
Moscow takes place in the Russian Ural Mountains.
One Ground War map is a massive ice map, featuring a three laned map. This includes a big frozen lane in the middle, a forest on the left side and plenty of bunkers and a train on the right.
This map will include vehicles such as snowmobiles and tanks while being set in Vietnam. It also has a powerful flamethrower weapon.
As for 6v6 maps? One map is described to have a warehouse, with a gigantic open field in the centre. It also features a sniper tower and a river that runs from one spawn to another.
It's just not a Black Ops title unless Nuketown makes an appearance, you can expect to see a version of this chaotic model village as a core map or pre-order bonus.
Although COD fans are hopeful to see plenty of new content, the reality is that development time has been drastically cut, so it is expected that a significant portion of the maps will be remade or inspired variations.
Large player modes are set to return, with Ground War games hosting 64 player lobbies (32 vs 32) - games will have 5 flags just like Modern Warfare.
The Red Door Alpha revealed the following multiplayer map names
Black Sea

Cartel

K.G.B.

Miami

Moscow

Satellite

Tank

Tundra
With a number of these being correct, we could see the rest being true once the game goes live. However, names are always subject to change.
We do know that Nuketown, Jungle, Summit and Firing Range will also return as throwback maps.
This isn't the first time these maps have been brought back. Originally debuting in Black Ops 1, they were brought back in Black Ops 3 and Black Ops 4. Nuketown, Summit and Firing Range were also reimagined in Black Ops 2.
Black Ops 4 recycled a number of old maps at launch, so this doesn't look like a good start for the new game; especially as the community has aired their displeasure to reimagined maps during Modern Warfare.
Gunsmith, Loadouts And Create-A-Class
Gunsmith returns with familiar aspects of Black Ops legendary create-a-class system.
Instead of a pick 10 system, it will be a slot system opposed to previous years.
In Black Ops Cold War you are going to always to spawn onto the map with:
Primary Weapon
Secondary Weapon
Perks
Lethal
Tactical
Field Upgrade
WildCard
Along with the reverted slot based class system, they are also reintroducing Wild Cards.
You will be able to pick one of four WildCards for each class and they include:
Gunfighter - 'Unlocks 3 additional attachment slots for your primary weapon'
Perk Greed - 'Equip 3 extra perks'
Danger Close - 'Equip extra lethal and tactical equipment, and start with max ammo'
Law Breaker - 'Equip any weapon in either slow and equip any perks'
Blueprints have been confirmed to return based on pre-order bonuses.
Specialists will NOT return.
Read More: Black Ops Cold War: Create A Class System Revealed - Features, News And More!
Perks
So far, only a few perks have been leaked, here are the rumoured and confirmed perks so far:
Perk 1
Engineer – Detect Enemy equipment & scorestreaks through walls
Tactical Mask – Maximized resistance to Flashing and Stun grenade. Immune to gas.
Flak Jacket – Take less damage from enemy explosives and Molotov fires.
Perk 2
Scavenger – Replenish ammo from fallen players
Quartermaster – Recharge equipment over 25 seconds
Tracker – See imprint of enemy footsteps. Aim at enemies to reveal them on your team's mini-map.
Perk 3
Cold Blooded – AI-controlled Scorestreaks will not target you. Player-controlled scorestreaks will not highlight you. Show up cold on Thermal. Players in vehicles won't see your nameplates.
Ghost – Undetectable by enemy Spy Planes whenever you are moving, planting, or defusing bombs, or controlling Scorestreaks.
Ninja – Sprint more quietly. Resistant to Field Mic.
Read More: Call of Duty Black Ops Cold War 2020: All Perks Confirmed And Rumoured In COD 2020
Game Modes
Game modes that included in the new game so far include:
Team Deathmatch
Hardpoint
Kill Confirmed
VIP
Ground War
Domination
Search & Destroy
Control
BATTLE HARDENED: Classic modes and fan favourites return, as well as new ways to play
Field Upgrades
Field Upgrades are returning and it seems like they won't be too different to Modern Warfare.
So far confirmed Field Upgrades include:
Proximity Mine – Throwable mine, explodes shortly after one enemy runs or drives over it. Can be avoided by crouching. Destroys any vehicle that runs over it (Recharge Time: 2:00)
Sam Turret – Launches missiles at enemy air scorestreaks and player-piloted helicopters (Recharge Time: 3:45)
Jammer – Creates an electronic disruption field, disabling enemy Field Upgrades and degrading enemy mini-map information (Recharge Time: 2:30)
Field Mic – Deploys a recording device that highlights enmity sounds on your mini-map (Recharge Time: 3:15)
Read More: Call of Duty Black Ops Cold War: All Field Upgrades Confirmed And Rumoured In COD 2020
Equipment
Here's the equipment being added to the new game:
Lethal Equipment
Frag Grenade
Semtex Grenade
C4
Throwing Knife
Tactical Equipment
Smoke Grenade
Stun Grenade
Flash Grenade
Read More: Call Of Duty: Black Ops Cold War: All Lethal And Tactical Equipment Confirmed In COD 2020
Operators
Operators return - so far we can assume Frank Woods is an Operator given he is a pre-order bonus in the universal mode Warzone.
Skins have been confirmed to arrive based off of pre-order bonuses.
Read More: Call Of Duty: Black Ops Cold War: All Operators In COD 2020
Vehicles
Vehicles will return, complete with their own skins. Here are the confirmed vehicles:
Tanks
Boats
Helicopter
Snowmobile
Jet-Ski
It's been confirmed that certain vehicles will allow the driver to shoot in first-person.
Read More: Call Of Duty: Black Ops Cold War: All Vehicles In COD 2020
Black Ops Cold War Alpha "The Red Door"
The Public Alpha for Black Ops Cold War was announced during the PS5 Showcase on the 16th September.
Pre-loading is now available for everyone with the servers coming online at 6pm BST.
This will be our first chance to get our hands on the game before the beta arrives in October.
Read More: Black Ops Cold War Alpha: Release Date, Times, Download Size, Pre-Load Details, Sign-Up And Everything You Need To Know
People managed to boot up the COD 2020 "The Red Door" Alpha. When the game was launched, it reveals a Call Of Duty Black Ops splash screen.
The Red Door appeared for a second time, this time on the Microsoft Store.; which is believed to be the COD 2020 Alpha.
We now know that the playable Alpha is live for select influencers and content creators.
The description reads: "There is more than one truth. If you go looking for answers, be ready to question everything and accept that nothing will ever be the same. The Red Door awaits, do you dare step through it?"
You may remember this popped up on the PlayStation Package Database. This is a system, managed by Sony, that allows developers to upload games to the PlayStation Network; likely to allow developers and testers to try out the build from home.
The new build appears to be called 'The Red Door' complete with some artwork. While it's unlikely to be related to the game title, as Black Ops 3's alpha build was called 'Northwoods', there's a very strong suspicion it is the new title as the content ID reads: COD2020INTALPHA1.
The 71GB game revealed the following information:
Photos via @TheMW2Ghost
In late July, a 10GB update was added to the game that saw multiple new files referencing the Campaign, Zombies and Warzone.
Beta
Black Ops Cold War's beta will take place on the 8th October 2020, starting on PS4.
The Black Ops Cold War beta will be held for those that pre-order the game digitally.
A beta for the Call of Duty multiplayer has released, without fail, every year since Black Ops 3.
The first beta for last year's Call of Duty arrived on the 12th September (just a month from launch).
Since the 8th is a Thursday, we're expecting early access to run for the rest of that week. Based on the wording, it sounds like there will be two forms of Early Access.
The first of which is a pre-order early access and a PS4 early access. Meaning, those that pre-order the game will get to play from the 8th and those who do not can play at a later date (thanks to PlayStation's exclusivity deal).
The second weekend will include Xbox and PC players; this will follow a similar early access process for players that pre-order.
The beta is supposedly only available to those that pre-order digitally. PS4 will receive the beta first as part of the exclusivity deal with Sony/PlayStation.
Campaign
As a direct sequel to Black Ops 1, we can expect very similar vibes to the game that started it all.
The campaign will feature mission choices, which allows players to choose how to play and interact with certain missions.
Side missions have also been added, originally being locked and slowly reveal themselves as you progress. You can collect additional evidence from side missions.
All of your decisions influence the campaign's ending. While it's not the first Black Ops campaign to have multiple endings, there is far more variation than before.
You will play as your own customisable character - players create a CIA dossier for themselves and can redact or un-redact parts of the history they want to while building the character.
Alongside our familiar heroes, the game will also include:
Russell Adler, played by Bruce Thomas
Helen Park played by Lily Cowles
Lazar Azoulay played by Damon Dayoub
Lawerence Sims played by Reggie Watkins
The game's villain is played by David Negahban, who was in Showtime's Homeland series. We'll also see Ronald Reagan.
Read More: Black Ops Cold War Campaign: Missions, Story Characters, Features, Customisation And Endings In COD 2020
The Campaign mission names have also been revealed:
K.G.B. (Russia)
Siege (Russia)
Yamantau (Russia)
Takedown (Side Mission)
Tundra (Side Mission)
Hub (Germany)
Hub 8 (Germany)
Stakeout (Germany)
Armada (Vietnam)
Prisoner (Vietnam)
Revolucion (Nicaragua)
Amerika (Russia)
Duga (Russia)
Warzone & Blackout 2.0
Warzone will remain the heartbeat of Call of Duty games going forward and will connect all of the universes together.
It means that players won't need to worry about Warzone not receiving updates.
Black Ops Cold War will bring a new map to Warzone, likely bringing a Cold War-era theme to the map.
With the story between Modern Warfare and Black Ops Cold War, could the maps be connected? Will we receive a 1980s style Verdansk or an entirely new map altogether?
During the multiplayer reveal, Treyarch's Creative Specialist Miles Leslie mentioned Verdansk specifically.
Whilst describing what's in-store for Warzone once we transition to the new game, he may have dropped the biggest news of all - Verdansk is staying!
"We can't wait for you to see how Verdansk and all of Call of Duty will evolve in the year ahead".
This is huge news as a new map is certainly on the card with Black Ops Cold War-themed locations ahead.
But how is this possible? Well, very easily if you're familiar with the story of Verdansk.
It's still a big mystery at this point, but @_TomHenderson_ has leaked that there will be a new map that replaces Verdansk.
He also detailed that Verdansk could reappear at a later date depending on player feedback.
Hopefully, the live nuke event in Warzone Season 6 will reveal more.
Early rumours suggested that the Blackout map might return with some different POI. Treyarch has said that it was very happy with its first attempt at a Call of Duty battle royale mode, so will they attempt to create a Blackout 2.0?
It's hard to imagine that would be the case, but it's always a possibility.
CharlieIntel has noted that these four Warzone names have been leaked and could be additional locations onto the existing Warzone map if it carries over.
Duga
Forest
Russia
Ski Slopes
We're expecting the new Warzone update to go live on the same date as the base game launch.
Read More: Black Ops Cold War Warzone LEAKS: Release Date, New Map, Weapons, Battle Pass, Vehicles And Everything We Know
WHERE WE DROPPING, BOYS?: Get ready for action in a Cold War battle royale
Zombies
So far, all we have is a teaser of the new Zombies mode; which was unveiled at the end of the multiplayer reveal.
BREAKING: Black Ops Cold War Zombies Mode Teaser pic.twitter.com/ymrvSZhZk9

— Call of Duty News (@charlieINTEL) September 9, 2020
During the live stream, Call of Duty YouTube creator NoahJ456 showed everyone the Black Ops Cold War menu and may have leaked a potential reveal coming at the end of the show.
As you can tell in the below image, Noah has the Zombies game mode unlocked.
So, perhaps we are going to see something soon?
The Treyarch Zombies storyline came to an arguably anti-climatic conclusion during Black Ops 4's DLC 4. "Tag Der Toten" was a remake of the Black Ops 1 Zombies map Call of the Dead.
In the final map, you play as the Victus crew and aim to solve the paradox that has unfolded and strive to put an end to the chaotic story that has unfolded over the past 10 years.
So what's next for Call of Duty zombies? TheGamingRevolution has claimed that it is VERY different from what has come before it.
There will still be perks, pack-a-punch and other core features, but there will be more barriers to play and different ways to play the mode.
Reports claim that Tranzit will be released on disc, but it's not a very reliable source. It's worth mentioning that a DLC 5 was intended to arrive in Black Ops 4 (as Zombie Chronicles 2) but was cancelled; this is evident by the number of remastered assets in the game from past zombie maps.
Theories are surfacing that these assets have been held back for release in Black Ops 2020.
But what is the story? It's still up in the air whether it will follow a similar strand to the original story or whether it will be a reboot, similar to Modern Warfare, using the same characters and concepts rather than the same story.
What's for certain is that the Chaos story will NOT be returning. The Chaos story was not enjoyed by the community and what they have really warmed to is a more realistic and grounded style. It's rumoured the new story will be based around Vietnam to reflect the tone of the game.
TheGamingRevolution believes the remakes could be based around the Victus crew and set after Tag Der Toten in the Dark Aether.
He also feels that there could be more DLC for zombie maps than usual as all multiplayer maps will be free - there could even be a zombies pass.
TheGamingRevolution has shared leaked concept art (see below video) from the original Black Ops game that depicts Vietnam styled zombies, which may give us an indication of what to expect in Black Ops 2020.
The Red Door Alpha revealed that the Zombies map is codenamed 'Silver' and a reveal for the mode won't come until later this year.
Interesting animated calling cards have surfaced in the game files for Modern Warfare and Warzone depicting the Quick Revive logo.
Photo via @zarketas
Read More: Black Ops Cold War Zombies Leak: New Code Name Is 'Silver'
Dead Ops Arcade 3
The Dead Ops Arcade mini-game has been a hidden game that Treyarch has implemented in some of its previous titles.
It plays like a retro shooter, offering a nice change of pace from the regular zombies.
Since Treyarch has added this game in previous titles, usually released every other title, many assumed we would be getting the third iteration in Cold War.
TheGamingRevolution posted a video on his YouTube video noting that a while back when the 'Red Door' alpha was leaked on the Xbox Store, which we found out later was the alpha for Black Ops Cold War.
Data miners were able to get into the game files of the alpha and discover a listing for Dead Ops Arcade within said files.
The strange aspect behind the location of the game files for Dead Ops Arcade was that it was stored inside the 'Warzone' category.
TGR notes that there is a possibility there will be some sort of terminal within the new Warzone map.
Players will be able to check the terminal in-game and jump into some retro action!
As of now, however, we can only speculate how players will be able to access Dead Ops Arcade 3; as Treyarch has been silent on it!
Read More: Black Ops Cold War Zombies: Dead Ops Arcade 3 LEAKS: Gameplay Details, Rumours, Warzone And Everything We Know and More!
Pre-Order
If you pre-order Black Ops Cold War you will receive the Frank Woods Operator for Modern Warfare and Warzone, as well as an M4 blueprint.
So far we know of three editions for Black Ops Cold War:
The Standard Edition includes the game for the selected platform only. Activision has stated that those who buy the digital standard edition on PS4 or Xbox One will be allowed to upgrade to PS5 or Xbox Series X for $10.
Activision has also confirmed the Standard Edition of the game will be priced at $69.99 for PS5 and Xbox Series X.
The Ultimate Edition includes the game (on both current and next-gen consoles), Battle Pass Bundle (including 20 tier skips), Land, Sea and Air pack and the Confrontation Weapons Pack.
The Cross-Gen Bundle could be confirmation that players that buy this edition will get a free upgrade to the next-generation version.
There are no physical editions of Black Ops Cold War for PC, it will only be available digitally via Blizzard Battle net.
Read More: Black Ops Cold War Pre-Order Guide: Release Dates, Price, Editions, Bonuses, Best Places To Buy And Everything We Know
Cross-Platform
Yes, Black Ops Cold War will feature cross-play and support cross-generational play for both Multiplayer and Warzone.
That means PS4, PS5, Xbox One, Xbox Series X and PC players can all play together.
Read More: Black Ops Cold War: Cross-Play And Cross-Platform Details For Multiplayer And Warzone On PS4, Xbox One, PC, PS5 And Xbox One
Theatre Mode
Theater mode is set to make a return this year. As reported by CharlieINTEL, the popular feature makes a return to the game.
It's customary for this great content creation tool to be featured in Treyarch games.
"While we are not able to showcase what it looks like or features in it, the MP lobby menu screen had a locked "Theater" mode option shown" said the news outlet.
Read More: Black Ops Cold War: Theater Mode To Make A Return