Modern Warfare is getting better with age and Season 4 could be the best one yet, with Season 3 being a remarkable improvement over previous ones.
With Season 3 still being so young, what can we expect from the next chapter in Call of Duty's latest title? There's still plenty of content to come as much of it, that has been found in the game files, has yet to be released.
Here's what you need to know about Season 4 of Modern Warfare and Warzone.
Looking for something in particular? Click the links below to read more:
Latest News
Easter Egg Predictions - 31st May
What's happening in Verdansk? What does the Bunker 11 Easter Egg mean for the future of Warzone?
Here are our predictions for the next phase of Warzone and what will happen at the end of the Easter egg as we enter Season 4.
Season 4 Patch Notes - 30th May
So what exactly is coming in the new season? Season 4 is expected to be a HUGE season for many reasons.
Most notably old school maps like Scrapyard will reappear in the multiplayer, new operators like Captain Price and Gaz are entering the scene and Warzone is set to get a mysterious map/story update.
Here's what we know about the patch notes.
Duos Now Live In Warzone - 29th May
Battle Royale duos are now live in Warzone ahead of the Season 4 release.
AN-94 Coming To Modern Warfare? - 29th May
Modern Warfare has been found in the game files. This could be one of the many ways the current Call of Duty plans to kick start the teasers for COD 2020.
Rytek AMR Sniper Rifle And Akimbo Blades Leaked - 28th May
New footage of an AMR Sniper Rifle and Akimbo Blades have been leaked ahead of Season 4 - could these weapons be added in the new update?
The Vector and Galil were shown off in the Season 4 trailer, confirming that they will be the launch weapons, but we're now accustomed to a new weapon half-way through the season.
Could we be getting unprecedented four new weapons?
Tanks In Warzone? - 28th May
A lot of theories are popping up that suggests tanks will arrive in Warzone.
Season 4 Trailer Confirms 3rd June Beginning - 27th May
The latest trailer recaps the story of Modern Warfare so far and confirms that Captain Price is the new Operator, as well as Gaz.
New weapons such as the Galil and Vector are displayed in the final shots.
We also can see in the latest teaser image the map Scrapyard displayed in the text - meaning it will be arriving in multiplayer as a standalone map.
Warzone Leaks - 27th May
Looking for the latest Warzone leaks? Check out our YouTube video with the latest news!
200 People In Warzone? - 26th May
According to @ModernWarzone, the game files are now showing 200 players for both Plunder and Warzone, along with duos and the juggernaut mode.
Top Secret Message For Operators - 23rd May
In a recent Rank Up report article, posted on the Activision blog website, a Season 4 teaser has been discovered.
It seems the post has been hijacked by someone to convey a top-secret message:
TOP SECRET MESSAGE TO ALL ARMISTICE OPERATORS
CLASSIFIED INFORMATION TO FOLLOW
ARMISTICE OPERATORS:
WE HAVE RECEIVED WORD OF A PROTOTYPICAL WEAPON HIDDEN UNDERGROUND IN VERDANSK. OPERATOR TEAMS ARE ALREADY IDENTIFYING WHERE THIS WEAPON IS, BUT AT TIME OF TRANSMISSION, WE DO NOT KNOW IF THEY HAVE BEEN GRANTED FULL ACCESS TO ITS LOCATION.
WE HAVE SUCCESSFULLY DISRUPTED AQ COMMUNICATIONS AND HAVE WIRETAPPED THEIR CALLS. UNFORTUNATELY, THEY HAVE COUNTERED OUR EFFORTS WITH SCRAMBLERS.
THE CALLS ARE NOW GOING TO MULTIPLE HARDLINES IN VERDANSK. LISTEN CLOSELY TO WHAT THEY ARE SAYING DURING THESE TRANSMISSIONS, AND BRUSH UP ON YOUR RUSSIAN - YOU MIGHT NEED IT.
INTEL SUGGESTS THE HOLDING AREA CONTAINING THE PROTOTYPE OPENS VIA MARKED TELEPHONES IN VERDANSK.FURTHERMORE, THE ACCESS CODE CHANGES FREQUENTLY – AQ KNOWS THIS PROTOTYPE IS DANGEROUS, NOT A TOY.
BE WARY OF AQ SLEEPER AGENTS SPREADING FALSE CODES TO DETER ACCESS TO BOTH ENEMIES AND ALLIES. THESE CODES MAY BE SHARED THROUGH CIVILIAN MEDIA – E.G., VIDEOS, SOCIAL MEDIA – AND ARE NOT VIABLE FOR COMPLETING THIS MISSION.
THE POWERFUL PROTOTYPE WEAPON IS MEANT TO BE USED BY AQ ELITE FORCES. WE BELIEVE IT TO BE A CUSTOM-BUILT SUBMACHINE GUN. EXTRACTING THIS WEAPON WILL FURTHER CRIPPLE THEIR DEFENSES AND BOLSTER OUR OWN ARSENAL.
THIS OPERATION IS TOP SECRET AND SHOULD NOT BE SHARED OUTSIDE OF ARMISTICE. WE RISK LOSING VERDANSK AND STARTING GLOBAL THERMONUCLEAR WAR IF THE EXTRACTION OPERATION IS COMPROMISED.
DO NOT TRUST ANYONE OUTSIDE OF YOUR SQUAD IN VERDANSK. TREAT ANYONE - INCLUDING THOSE WITHIN ARMISTICE - TRYING TO ACCESS THIS PROTOTYPE AS A HOSTILE FORCE.
REPEAT: ACCESS THE AREA, EXTRACT THE PROTOTYPE. WEAPONS FREE ON ALL THREATS TO THE OPERATION.
STAY FROSTY.
TRANSMISSION OVER – REST OF RANK UP REPORT TO FOLLOW.
More Clues For Season 4? - 22nd May
More clues have popped up regarding Season 4 thanks to @TheMW2Ghost.
Season 4 Teaser Confirms That Captain Price Will Return As An Operator - 22nd May
A new teaser video has been found on the Call of Duty website.
The Call of Duty mobile app sent out a notification alert with teasers of a meeting on May 21st.
It seems those speaking are Al Asad and Zakhaev - the teaser confirms that Price will return as an Operator.
Unreleased Weapon Gameplay - 16th May
Data miners are finding unreleased weapons within the game files such as the Vector, Galil, APC9, HK G28 and XM109.
New Weapon Is The Galil? - 14th May
New reports are suggesting that that Galil has been found in the game files of Modern Warfare and could be the new weapon to arrive in Season 4.
This also may tie into the COD 2020 reveal that is usually teased in the latest Call of Duty game.
Sandstorm For New Map Circle? - 5th May
@ModernWarzone has shared information from one of their Discord mods that pointed out a stagnant sand storm is surrounding Urzikstan (in-game).
Although a new map may not be on the way soon, they have reason to believe that the new circle will no longer be gas, but instead a sandstorm.
Photo via @ModernWarzone
New Content Coming To Warzone - 4th May
In a recent interview, Taylor Kurosaki (Infinity Ward's Narrative Lead) and Amos Hodge (Raven Software's Director) confirmed that plenty of new content is coming to Warzone including:
Duos
New items in-game that you can put in your loadout
New items to find in BR and Plunder that aren't in your loadout
New Field Upgrades
New modes
New loot
Narrative story
New Warzone Playlists Found In The Code - 3rd May
@ModernWarzone has found additional playlists in the code for Warzone:
Duos: One-Shot and Stimulus
Solos, Duos, Trios and Quads: Bottom Line
Infinite Gulag
Most Wanted
Run Like Hell
Classic Battle Royale
Mo' Gulag, Mo' Problems
Non-Stop
PewPew
Realism
Inflation Redeployment
Urzikstan Next Warzone Map? - 2nd May
Is Urzikstan the next Warzone map? Reddit user u/StreetfighterXD seems to think so, and they've written a very detailed description as to why it will be.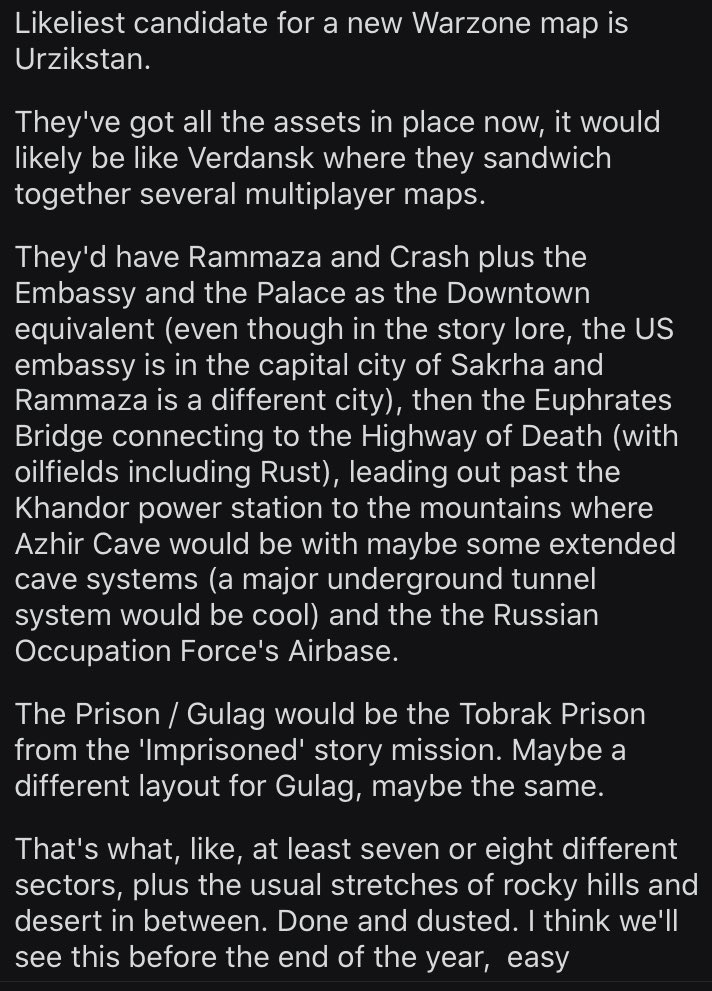 When Will Season 4 of Modern Warfare Start?
Season 4 of Modern Warfare will likely start on the 2nd June 2020 - this is when the Battle Pass expires.
Due to the COVID-19 epidemic, it could be that the latest season is delayed. However, Infinity Ward has been very good at pushing out regular updates amongst during this time, so it's likely to stay on course.
Last season, the update came the day after the battle pass was due to expire at 7pm BST (meaning it is actually the 3rd June in many parts of the world). This is due to the late release in other parts of the world.
Modern Warfare Season 4 Maps
While no maps have been confirmed for the new season, there are plenty of maps that have been discovered in the game files that could make its way into the game at some point.
Here are some of the remaining maps that we could eventually see:
Borderline
Takedown
Village
Offshore
Faridah
Emporium
Layover
Assault
Harbour
Breakneck
Oil Rig
Offshore
Seine Don
Scaries
Harbor
Fallout
Military Base 2
Firing Range
Garden
Ravine
Oasis
Malyshev
Hairat
Promenade
Allegedly there are 60 maps in the works for Modern Warfare at the moment, but whether they will make it to the final game is unknown.
We've also got a number of Gunfight maps to look forward to
Fork (Gunfight)
Hook (Gunfight)
Exclusion (Gunfight)
Boneyard (Gunfight)
Cornfield (Gunfight)
Theatre (Gunfight)
Townhouse (Gunfight)
Train (Gunfight)
Trench (Gunfight)
Walco 2 (Gunfight)
Drainage (Gunfight)
King PM (Gunfight)
Exclusion (Gunfight)
Layover (Gunfight)
Please bear in mind, some of these may just be codenames and not their final map names.
With Boneyard making an appearance, plenty are hopeful that Scrapyard will make an appearance as a 6v6 or 10v10 map; TheGamingRevolution is convinced it will arrive at some point.
Modern Warfare Season 4 Weapons
While we have no idea what new weapon may arrive in Modern Warfare or Warzone, a few weapons have been rumoured.
Data miners have posted gameplay of unreleased weapons including the Vector, Galil, APC9, HK G28 and XM109.
A "new weapon" was inadvertently discovered, thanks to PrestigeIsKey, in Season 3 - below is a picture of an axe/hatchet.
It is just a visual glitch and in a video that he posted, it was in fact a custom SMG.
There are currently no melee variants in the multiplayer and no melee weapons in the Battle Royale, which has been quite a common addition in past Call of Duty games; the Ballistic Knife has been spotted in an execution video in the past, leading people to speculate it may arrive at some point.
Before launch, it was also rumoured that the ACR and the M16 would return from Modern Warfare past - we've yet to see either of these weapons arrive so far.
Call of Duty: Warzone
Taylor Kurosaki (Infinity Ward's Narrative Lead) and Amos Hodge (Raven Software's Director) confirmed that plenty of new content is coming to Warzone including:
Duos
New items in-game that you can put in your loadout
New items to find in BR and Plunder that aren't in your loadout
New Field Upgrades
New modes
New loot
Narrative story
Updated Loot
Infinity Ward has assured that ground loot will have a continuous overhaul to diversify the strategies you can take across Warzone; so you can expect new tools of destruction to play with.
Expect to see every weapon type with a silenced and non-silenced variant, allowing squads to kit themselves for silent operations
New weapons and blueprints will be added to Supply Boxes and ground loot to Verdansk and stay tuned for additional meta updates as the Warzone further evolves.
Game Modes
More modes will also arrive later this season and in a list of leaks from u/Senescallo, we can confirm a number of different playlist and modes could come at some point:
Battle Royale Duos - Teams of Two. Loot and Kill. Last team standing wins.
Battle Royale High Action "Claustrophobia" - Loot and Kill. The Gas closes in faster, so get moving.
Battle Royale One Shot - Battle Royale with 1-shot Headshots and no loadout drops.
Realism Battle Royale
Realism Plunder
Hardcore Battle Royale
Hardcore Plunder
Plunder Solo
Troopers
Infinite Revive
No Revive
@ModernWarzone has found additional playlists in the code for Warzone:
Duos: One-Shot and Stimulus
Solos, Duos, Trios and Quads: Bottom Line
Infinite Gulag
Most Wanted
Run Like Hell
Classic Battle Royale
Mo' Gulag, Mo' Problems
Non-Stop
PewPew
Realism
Inflation Redeployment
They have also found an icon in the files for a mode called Juggernaut.
There's no mention of a ranked playlist or mode for Warzone at this time.
Since the Battle Royale and the multiplayer are tied together with universal progression (including the battle pass) its unlikely that much will come in the form of unique Warzone cosmetics.
Map Changes
If you've been checking out the strategy guide that Activision launched with Warzone, there are many areas listed as "classified".
It's easy to assume these areas will be unlocked as time goes on and particularly when Season 4 launches.
Players could be forgiven for not noticing certain changes to the new main menu in Modern Warfare and Warzone, it shows a dam that's broken.
The new main menu now shows the dam that's overflowing and starting to release water. The current dam in Warzone is frozen and no water is really in the map at all right now.
It isn't hard to believe that the new Warzone map will evolve over time, especially as players discover new easter eggs that may tie into the story of Verdansk. Those playing the game will have noticed a few vaulted doors, bunkers and interactable computer terminals which many believe are key to a hidden easter egg.
In fact, Infinity Ward's Narrative Director Taylor Kurosaki briefly mentioned how the studio is looking at Fortnite-like events that fit the Warzone and Modern Warfare universe.
Season 4 Battle Pass Rewards
There will be 100 Tiers of content, some of which will be free, but the rest requires players to purchase the Pass for 1,000 CoD Points.
The Battle Pass traditionally features an array of weapons, blueprints, emblems, stickers, charms, calling cards, watches, operator skins, vehicle skins, finishing moves, XP tokens and COD Points.
Each pass has had a featured Operator for you to obtain as an instant reward with a special skin once you reach max rank; last season featured Alex.
You'll be able to purchase 20 Tier skips for 2,400 CoD points, too.
If you managed to grind your way through the battle pass for Season 3, you should have earnt enough points to buy the Season 4 pass for free.
Spec Ops
The Spec Ops mode is receiving less love as time goes on, although a few new maps have been added to the survival mode.
We could see a few more maps added this season.
Season 4 Operators
A new season means new Operators and as more campaign characters are added to the mix, there are plenty that could still arrive.
We already know that Captain Price will arrive in the next season, but who could join alongside him?
Here are some characters we would like to see return:
Captain Price
Imran Zakhaev
Soap MacTavish
Gaz/Sgt. Kyle Garrick
General Shepherd
Marcus Griggs
Farah Karim
Khaled Al-Asad
Season 4 Game Modes
There are many game modes that have been found in the game, but have yet to be added into the rotation:
One In The Chamber - Gain ammo by eliminating enemies. Highest score wins.
All or Nothing - Spawn with a custom pistol, throwing knife and no starting ammo. Extra perks are gained on kills, but you lose everything on death.
Rupture - Take control of a powerful Juggernaut and push to the enemy's base to win.
Team Juggernaut - Each team has a Juggernaut. Juggernaut kills are worth more points. First team to reach the score limit wins.
Reinforce - Capture points will revive fallen teammates. Taking all points will win the round.
Invasion - Take your team's flag into the enemy base.
High-Value Target - Gain score by eliminating players on the opposing team. Extract high-value enemy combatants to steal score back.
Defender - Capture the drone and it to upload data and earn points for your team.
Search & Rescue - Teams take turns defending and destroying an objective. Recover dog tags to allow or deny respawns.
Fire Mission - Eliminate enemies, capture HQ's and extract VIPs to earn score for your team.
Assault - Attackers attack a bombsite while defenders defend.
The following playlists have yet to be implemented:
Cyber Attack Pro - Cyber attack with respawns instead of revives
Hit Man
Rat Race
Jugg of War
Student Loan Payments
Stick and Stones
Team Building Exercise
Working From Home - Small map mosh pit.
Guides
Check out our Season 3 guides here: